How to Choose the Right Motorcycle for Your Trip
Posted On: Oct 17, 2018
When you plan your trip with EagleRider, one of the most important choices is the bike you'll ride. So let's review some of the key things to consider. We will also offer some trip scenarios and which bikes turned out to be the best choices for the riders. For many of you riding the iconic American roads has been a long time dream. So now the question is not whether you get on the road, but what motorcycle you should choose.
Before we start, let's quickly review the rental options. EagleRider offers rentals in multiple classes, from touring to classic and street. We also have sport touring and three-wheel classes and a variety of trailers, vans, jeeps, and other support vehicles in case you need to rent those out. Each class has specific features that can either make it a perfect ride or be not so fun - imagine having a passenger on a Sportster for a 2-week Route 66 journey. For quick reference, here is a quick comparison of motorcycle classes.
Touring (Harley-Davidson® Electra Glide®Ultra Classic®, Harley-Davidson® Street Glide®, Harley-Davidson® Road Glide® Ultra) - the most popular class of motorcycle for longer trips, especially with a passenger. They offer ample space, are comfortable for riding all day long and have comfort elements such as navigation, wind protection, heated seats, and much more. These are our most popular rental motorcycles, so we always recommend booking your rentals in advance.
Classic (Harley-Davidson® Heritage Softail® Classic, Harley-Davidson® Road King®, Harley-Davidson® Fat Boy®) - If you want a truly iconic American look, this class offers just that. Smaller than touring, motorcycles in this class are ideal for both short and long trips but are less heavy and with smaller storage space.
Sport Touring (Honda® ST1300, BMW® R 1200 RT) - the models in this class are available at select EagleRider locations and are geared towards more aggressive street riding and a very distinct look compared to Touring motorcycles.
Street (Harley-Davidson® Sportster® 1200, Harley-Davidson® Sportster® 883, Triumph® Bonneville T100) - consider this class to be the lightest and most nimble ride you can have. Perfect for shorter trips, such as day rides and weekend trips, the motorcycles in this class have an aesthetic appeal and are pure fun to ride.
Dual Sport (BMW® R 1200 GS, Triumph® Tiger) - the bikes in this class offer a healthy mix of on-road and off-road (mostly grave, service, and fire roads) riding. Usually outfitted with side and top hard cases, these machines are ideal for a more rugged ride where you spend 90% of the time on-road and veer off to gravel service roads for some portions of your trip.
Adventure (dirt bikes) - if hitting off-road trails is your type of fun, adventure class is perfect for getting dusty on thousands of trails all around North America. These bikes are usually rented out together with a trailer.
3-Wheel (Harley-Davidson® Tri Glide® Ultra) - this class offers the models that don't require much weight balancing and are perfect for anyone looking to enjoy the road without the same level of physical effort as other classes.
UTV and ATV (Polaris® RZR® 4 900, Textron® Alterra™ 300) - whether it's sand dunes or forest trails, these 4-wheel classes offer a variety of models for a very different type of adventure. We often get asked if we rent ATVs, so the answer is definite yes!
Support (Ford® 12 Passenger Van, Carson Utility Trailer 5x10) - we rent variety vans and trailers, which are a great option if you're coming with a large group of riders and want to create your own version of a guided tour. Trailers can carry up to 6 motorcycles and vans are typically for 12-15 passengers and/or luggage.

Something that will always be the very first consideration is your level of riding experience. Being in your comfort zone, especially on new routes and with a passenger on the back of your motorcycle, is one of the most important considerations for having a trip of a lifetime and riding safely. Always keep in mind how much weight you can handle and balance, how low the seat needs to be (not all of us are 5'11"), and how big of a motor is too big for you. 1,800 CC may be too much if you're used to 500 CC. These are very intuitive questions you'll start asking yourself before everything else. Use your best judgment and get a ride that's right around your comfort zone.
So what are the four things that you should keep in mind when choosing the class and specific model?
There is no one perfect answer and it depends on a lot of factors. Let's look at 4 of these factors in more details.
First thing is the comfort - for you and your passenger if you plan on bringing one. Longer trips are much more convenient on larger touring motorcycles such as Harley-Davidson Electra Glide.
Low center of gravity
Plenty of storage
Weather protection
Comfort elements: USB charging, music, navigation
Might be difficult to handle without much experience
Fuel range
If you have a passenger, this will be one of the most important decisions. Sure, you can do a ride for 10 days on a Harley-Davidson® Heritage Softail® Classic, but chances are, your spouse might not enjoy the small backrest compared to the ultimate comfort on a Harley-Davidson® Electra Glide® or a Harley-Davidson® Road Glide® Ultra. We can add or remove the windshield, top cases, saddlebags, and any extra elements depending on what you prefer. Please add a note in your reservation if you want to add/remove anything for your rental reservation.
The weight of the touring bikes may not be something you can feel comfortable with, and we always recommend choosing the bike you can handle for the length of your trip. When you arrive at the EagleRider location, we will get you on a few other models so you can feel the difference and make the final choice for the trip.
Motorcycles from the Classic and Street classes are more nimble and easier to handle. They have plenty of character and are great for shorter rides. We have some riders on longer tours ride Harley-Davidson® Heritage Softail® Classic and Harley-Davidson® Fat Boy® motorcycles, and of course, it's all about what you're comfortable with. But expect more fatigue from a bit rougher ride and less protection from the elements - rain, dirt, dust, wind. Preferred riding position can also be a big deciding factor. For some riders who are used to lower seating position or more aggressive racing posture, smaller motorcycles will be more comfortable options.
The second thing to consider is storage space that will be available to you on the trip. EagleRider guided tours are traveling with a support van that carries all your luggage, water, space motorcycle, and anything you want to purchase along the way. It's also great if you want to detach your windshield and put it in the van for some stretches of the trip. When it comes to storage on the touring motorcycles and bigger models like Road Glides and Electra Glides, top cases can fit two helmets and are quite spacy for additional luggage needs. Hard side cases are very convenient for any additional storage and can provide you enough luggage for even a week-long trip.
Smaller bikes in Classic and Street classes have minimal storage space, but you can always attach a bungee cord and secure your bags that way. All EagleRider locations carry these items so you don't have to buy these at home.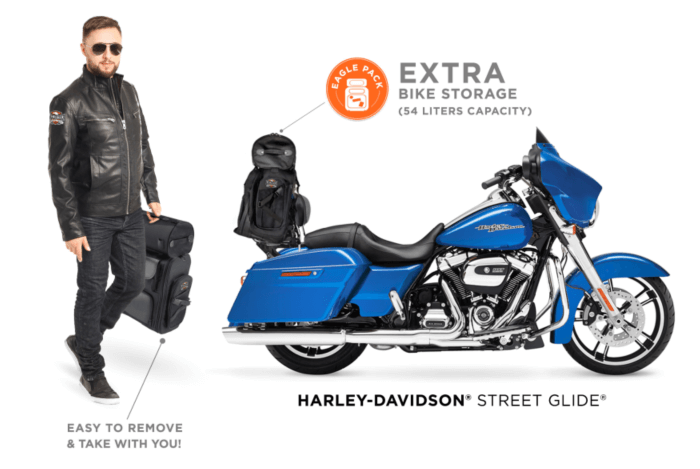 We just recently introduced a new add-on for rentals - Eagle Pack. At 54L capacity, this bag is a great option to carry luggage on smaller bikes. For just $99 you can get the Eagle Pack and take it home after your rental is completed. We find that a lot of riders arrive with large suitcases and cannot fit all they want into saddle bags. We looked at possible solutions to improve the riding experience for all of our EagleRider customers and Eagle Pack is now an option available in the reservation process.
Having a spare motorcycle on a trip is also big advantage. Things happen on the road - flat tire or maybe the bike is too big for you - so with a spare, we can always adjust on the trip and make sure everyone has a very comfortable ride and an unforgettable time on our EagleRider tours. If you have a passenger, especially someone who enjoys packing a lot of stuff for the trips, you will be limited to bigger models in Classic and Touring class. This is definitely a personal preference, and thinking of storage needs ahead of the trip will save you a lot of headaches.
Let's talk about weather changes and how to plan for those. We often get asked about the best times to do different trips like Route 66 Motorcycle Tour or Canadian Rockies (Canada to Yellowstone Motorcycle Tour), so weather conditions are definitely a big factor for most riders, whether you do a rental or a tour.
Riding in America has a great mix of twisty roads and scenic routes, it's not all highways. There are definitely different climates and on the same trip, you can be in the desert, then riding in the mountains the next day, and finishing off the trip cruising the Pacific Coast with a fresh ocean breeze hitting your face. You may also encounter strong winds in the Midwest, which most riders handle easier on Touring motorcycles. Always expect a variety of weather, especially if you trip spans over multiple days. One thing we always recommend is carrying a rain suit as a backup and layering your riding gear so you can easily remove layers and ride in comfort in any weather.
ESSENTIALS TO BRING
EagleRider rental locations carry a variety of rental gear and you can purchase most essentials for the road right before your trip. Rental helmets and jackets are provided for free, but you can also purchase different or additional gear. Here are a few items we recommend packing up or purchasing before your trip:
Helmet
Gloves
Goggles
Jacket
Bandana
Vest or sweatshirt
Long sleeve shirt
Comfortable riding pants
And a sunscreen is always recommended
How much you pack depends on how much storage your motorcycle will be able to carry. On a guided tour, you can offload all your belongings into our support vans, so keep that in mind if you're traveling from overseas. See our complete guide to packing for a motorcycle trip.
HOW TO DEAL WITH HEAT
When riding in the extreme heat, a lot of riders make the assumption that the more gear and clothes you take off, the better. For our tour and rental customers who ride through Death Valley, Mojave Desert, and any other areas where extreme summer heat can be a problem, it is best to keep your layers on. Opposite of what your instincts would lead you to do when you're riding in high heats through the desert, you should keep your layers on even when the temperature rises to triple digits.
These layers will help to keep your body cool by absorbing the heat better and help you to prevent heat strokes which can happen when you're riding in extreme heat. If you're just riding in a tank top, your body will quickly become dehydrated and you will begin feeling dizzy and lose the focus you need to operate your motorcycle. So keep your layers on, they will help you get through the extreme heat and keep your body balance in check.
There is something magical about flying to a new place and finding a perfect shiny motorcycle that has a welcome card with your name on it. You can barely contain the excitement and can't wait to be done with the rental process and get on the road. You let go of daily grind and just let yourself have a few amazing days on the road. We all love those weekend getaways! Even just for two days, riding in a new unfamiliar place can be enough to refresh and enjoy the time on a bike.
The fourth and final thing to consider when choosing the right motorcycle for your trip is the length of your trip. There is a big difference between a day or weekend ride and a two-week trip. You need to consider everything from weather, storage, and comfort level before you make your pick. Smaller models in the Street class are great for day rides. They are light, nimble, aggressive, and look great for a city ride for a day or a weekend.
Longer trips, for example, EagleRider guided tours that are two weeks long, are more convenient on the Touring motorcycles. Sure, they are not as easy to handle but are great smooth rides for longer trips. You may also consider the Sport Touring Class that includes BMW® and Honda® motorcycles. Terrain conditions will also affect your choice. Most roads in America are perfect for Touring bikes, but occasionally, if you want to go off-road, so a BMW® R 1200 GS or a Triumph® Explorer will be more convenient for places like Baja and any off-road desert riding.
For some riders, how long you will spend on the road will not be a major deciding factor. If an Harley-Davidson® Electra Glide® Ultra is your motorcycle of choice, by all means, ride it as much and as long as you wish.
Let's look at a few scenarios and which bikes turned out to be a great fit.
14-day trip on Route 66 or Wild West - being on the road for two weeks is not something most of us are used to. Chances are, you'll also have a passenger riding with you. For longer trips, we recommend motorcycles in the touring class. If you are more comfortable on a smaller bike from a classic class, a Harley-Davidson Heritage Softail or similar will be a good choice. Harley-Davidson Sportster, Harley-Davidson Fat Bob, Harley-Davidson Fat Boy, and similar motorcycles are not ideal for this type of a trip, but you may be the one to prove us wrong.
8-day trip in the Pacific Northwest or Southwest - still a long trip, with more curvy roads and a wider mix of elevations, where most riders prefer to be either on touring class or sport touring. We suggest following the same recommendations as for a 14-day+ trip that we just mentioned.
4-day trip to Baja California - for a mix of the terrain in Baja California, most riders prefer either a motorcycle in the dual sport class or choose touring motorcycles for pure on-road riding. The 2-lane roads in Baja are well made on most routes we recommend.
Weekend ride with a passenger - often when riding with a passenger, you need to make sure they're 100% comfortable on the back of your bike and you're comfortable balancing the motorcycle with the additional weight of a second person. If you're renting a bike you've never ridden before, consider the weight balancing before all else. Safety is the top priority and we want to make sure you enjoy your time on our motorcycles.
Day ride in San Francisco or Seattle - For a day ride, there is really no preferred or recommended ride. You may enjoy anything from touring to street class motorcycles. Smaller bikes offer less protection from the elements and are a rougher ride with much smaller storage space.
For anyone who is still not sure about the best options, we recommend contacting our reservations team. Our seasoned riders and tour architects assist thousand of riders every year and are the best experts to contact with any questions you have. You can be on the road for a day or a week, the main thing that matters is that you enjoy the trip and truly have an amazing time on the road.
Receive Exclusive deals, rides and special events
Thank you for signing up!
EagleRider Privacy Policy
Yes! Please sign me up to receive the EagleRider newsletter and other emails and communications from EagleRider. By providing my personal information, I am consenting to its use and disclosure in accordance with EagleRider's Privacy Policy. I further consent to its use to serve targeted ads to me including via social media. I understand that I may withdraw my consent and unsubscribe from receiving future communications at any time. Consent is being sought by EagleRider.